Posted: September 7th, 2009 08:18 PM ET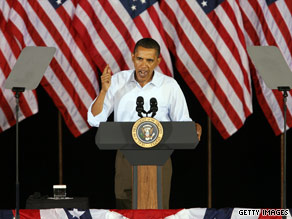 In a speech on Labor Day, the president revived his trademark 'fired up, ready to go' motto from the 2008 campaign. Aides tell CNN the Wednesday address to Congress will also be fiery.
WASHINGTON (CNN) — President Barack Obama plans to get much more assertive when he addresses a joint session of Congress Wednesday night at a critical stage in the health-care debate.
Top aides say his fiery Labor Day speech to an organized-labor crowd in Ohio was a preview of a more passionate case for reform that's coming later this week.
The top aides say the president is putting his own strong imprint on the speech to Congress. After advisers last week submitted various thoughts on what the speech should say, Obama spent much of the weekend at Camp David crafting the actual address, which currently is running about 37 minutes in draft form.
"He will be very forceful," one senior Obama aide said about the tone of the speech. "He will be making the case for action."
http://politicalticker.blogs.cnn.com/2009/09/07/aides-president-to-be-very-forceful-in-wednesday-address/
In some sense, I feel bad for Mister Obama because he never gets to be his own man; he is the creation and instrument of bankers.
And at this time I would like to apologize to Mister Obama for seizing upon that birth certificate issue. It appears that those fakes were disseminated by Israeli intelligence, perhaps for the purpose of maintaining political pressure on him. The birth issue is not resolved and I still think the man is a fraud. I do not believe a single word out of his mouth. His credibility is zero. He is an inveterate liar.
It is not necessary to lie in politics. It is quite possible to engage in that profession and still retain your soul.
And all this makes no difference now since that jurisdiction is dead. We're in the process of wiping it away like an unsavory stain.